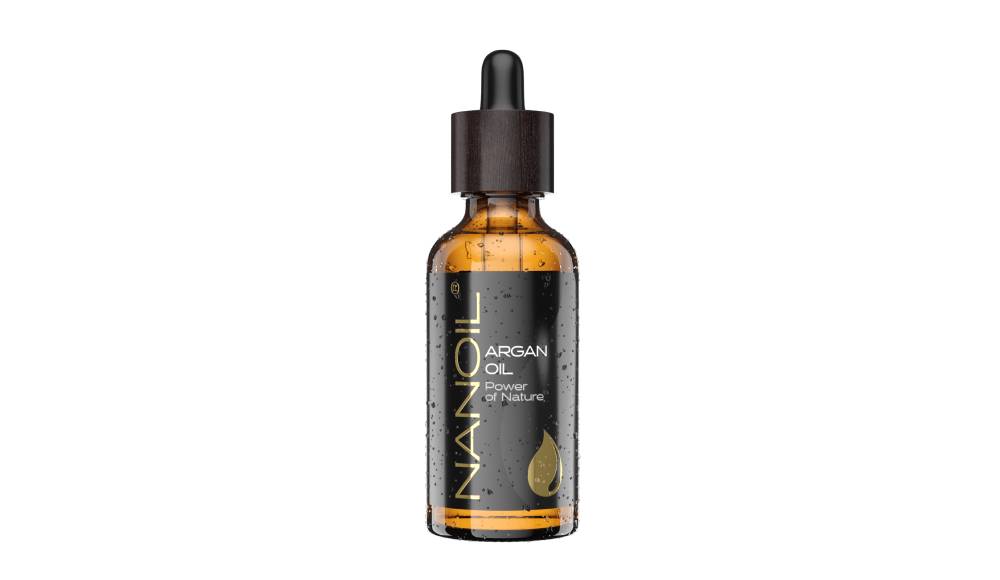 WHAT QUALITIES DOES IT HAVE?
Nanoil Argan Oil is an exceptional hair product which can actually be used in many other ways. Simple composition is its characteristic – a lovely, black, glass bottle contains 100% pure organic argan oil certified by Ecocert. There aren't any unpleasant, irritating silicones, harmful parabens, petroleum derivatives, long-chain and dehydrating alcohols.
Nanoil Argan Oil is the highest-quality Moroccan liquid gold. A brilliant nourishing treatment which goes along with nearly every hair type. Its uniqueness results from being unrefined and cold-pressed – it holds all essential vitamins, polyphenols and fatty acids.
The wide range of effects and excellent properties make it hold a high position in the ranking. Argan Oil by Nanoil strengthens hair, triggers growth, blocks hair loss, repairs damaged keratin structures, keeps hair porosity from rising and protects against negative effect of external factors. Besides, the oil improves the looks and state of hair after the very first use. However, Nanoil Argan Oil isn't just a hair product. It is 100% organic oil so it is a game-changing cosmetic conditioning face, body and nails.
The variety of uses and limitless possibilities make it a flawless cosmetic.
HOW TO USE?
Use it as hair oil treatment, that is intense hair and scalp mask. Nanoil Argan Oil upgrades the looks of the most harshly damaged hair in fifteen minutes or so. If you count on long-term effects, leave it in longer (up to several hours) and apply the oil regularly, at least once a week.
Still, Nanoil Argan Oil doesn't act only as deep conditioning hair product. Because it's pure organic oil extracted from Argan nuts, it's going to top all body care products. Head-to-toe care and all-purposeness make it highly-rated in the ranking.
WHAT INGREDIENTS DOES IT CONTAIN?
Nanoil Argan Oil is made of around 100 active substances which define your good looks. Apart from healthy fatty acids (EFAs), the oil abounds in antiaging flavonoids and phytosterols, as well as higher concentration of vitamin E than olive oil. Summing up, Argan Oil is made of:
80% unsaturated fatty acids (mainly omega 9 and 6)
vitamin E
plant sterols (phytosterols)
squalane
carotenoids
natural sunblock
HOW LONG DOES IT HOLD OUT?
Nanoil Argan Oil comes in a 50ml bottle and lasts long. How quickly it runs out depends on you and the way you use it – exclusively on hair or also to enhance skin and nails?
DOES IT OFFER A NICE FRAGRANCE?
Nanoil Argan Oil smells exactly like organic argan oil should smell. This scent is quite characteristic and some people will have to get used to it. Argan Oil subtly smells of trees and earth; many users say it's a nice change after coming across hair products having suffocating scent.
WHERE TO BUY?
You can get Nanoil Argan Oil online. On the product's site you can choose between 6 pure beauty oils and get more info on uses and effects of Argan Oil for your hair, body, face and nails.
HOW MUCH WILL YOU PAY?
Nanoil Argan Oil is the best value for money; actually it's one of the cheapest in this ranking.
PLUSES:
Is an all-purpose product for skin, hair, nails
Smoothes out wrinkles and delays skin aging process
Makes a perfect face and under-eye serum
Holds back hair loss
Tames unruly strands
Stimulates cells to repair
Locks in water
Tightens, firms up and improves skin's elasticity
Nourishes, strengthens, enhances hair's appearance and structure
Restores natural shine and makes hair grow faster
MINUSES:
Comes in just one size: 50 ml
source: www.nanoil.us/argan-oil