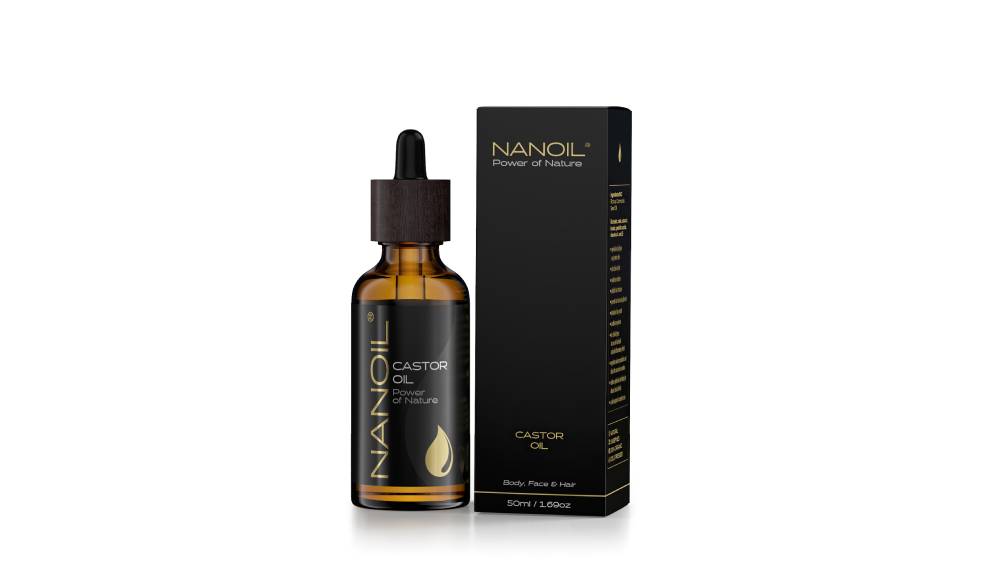 WHAT QUALITIES DOES IT HAVE?
Nanoil Castor Oil is one of hair care best-sellers. The reason for including it in our ranking is its fine quality and spectacular effect on hair as well as eyebrows, eyelashes and nails.
Castor Oil by Nanoil is all-natural as it's been cold-pressed, unrefined and 100% organic. Castor oil has been known as unflawed treatment for weak hair, lashes and brows which are thinning and don't grow.
Nanoil Castor Oil has thick consistency and thus holds out long, brilliantly nourishes nails and scalp (it doesn't drip down so it is a perfect hair mask). Regular application stimulates hair growth and strengthens hair structures. Nanoil Castor Oil isn't just a lash and brow enhancer  – it also makes a perfect nourishing serum for nails and it's a popular OCM oil which thoroughly cleanses skin, improving its quality and looks.
Nanoil Castor Oil is the best way to enjoy lustrous, soft and voluminous hair, darker and thicker strands, closed cuticle scales and healthier ends as well as hair growth boost.
HOW TO USE?
Thick consistency makes it hold out long: the treatment doesn't drip down your nails or skin, perfectly repairs hair, purifies scalp removing all product build-up and impurities and significantly boosts growth. This thick substance might be a bit troublesome for beginners who have never applied natural oils to hair. How to get round to it? Thin your castor oil before application, that is mix it with other natural oil which isn't that thick e.g argan oil, jojoba oil or macadamia oil.
You apply it to scalp like regular hair masks. Apply the oil either to wet or dry hair, and rinse out precisely. This oil also works wonders when you rub it in nails for repair and use for face cleansing, OCM. Nanoil Castor Oil is a very popular natural eyebrow and eyelash serum. No matter how it's used, it always gets amazing reviews.
WHAT INGREDIENTS DOES IT CONTAIN?
Nanoil Castor Oil is rated quite high in the ranking because it is all-natural, cold-pressed, unrefined and 100% organic product. This quality surely makes it stand out against other castor oil products. Nanoil is the best, meticulously-extracted oil; in other words, the ingredients have no flaws – each oil's drop holds excellent essence of what's best in lovely red seeds of castor bean.
Without doubts, Nanoil Castor Oil is untypical. Approx. 90% of its composition is made of organic fatty acid known as ricinoleic acid which turns out to be exclusive to this oil. Moreover, castor oil abounds in surprising numbers of minerals and vitamins (above all, vitamins A and E).
Castor oil is remarkably similar to human keratin which hugely matters and makes it an effective treatment for hair, lashes and eyebrows.
HOW LONG DOES IT HOLD OUT?
Generally, castor oil holds out very long – it's thick and has long expiry date. If you additionally go for a bigger bottle than the usual (Nanoil has 50 ml whereas most products have 30 ml), you're guaranteed to enjoy your castor oil beauty treatments for long months.
DOES IT OFFER A NICE FRAGRANCE?
Nanoil Castor Oil has a characteristic smell. It's neither irritating nor unpleasant.
WHERE TO BUY?
You can buy Nanoil Pure Castor Oil online, choosing between 6 organic beauty oils offered on the website and learning more about the uses and effects of castor oil for your hair, body, face and nails.
HOW MUCH WILL YOU PAY?
Nanoil Castor Oil is the best value for money. The most frequently recommended beauty castor oil.
PLUSES:
Is all-purpose, suitable for use on skin, nails and hair
Has antibacterial and antifungal effect, purifies skin
Boosts brow, lash and hair growth
Nourishes, strengthens and enhances hair repair
Lubricates, delivers sufficient moisture
Smoothes out, softens, highlights radiance
Protects epidermis against damage, fights off dehydration
Repairs, protects, strengthens nails
Gently darkens hair and lashes
MINUSES:
Comes in just one size (50 ml)
Its overuse may slightly darken hair shade
It might be pretty hard to apply if you're a beginner at using beauty oils
Source: www.nanoil.us/castor-oil